Jul. 20th, 2013
05:18 pm

lar_laughs

The newest update on the Hawkeye afghan!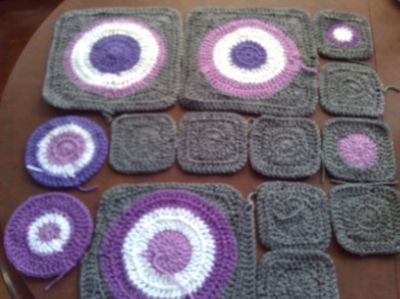 I apologize for the fuzziness of the picture but we spent alllllll day outside in the heat and I don't know if I could hold up my arms long enough to take the picture and NOT have them shake.
The large squares still need a few more rows on them but I wanted to see how they looked like this before I did those. I think I'm going to have to work them in but will still wait until I finish a medium square. Not sure how I like the small bullseye and may just do them as a ball of color. Not sure yet.
And guys. GUYS. You will not believe what was on my Facebook after I posted the pictures there.
My sister posted:
You ruined your birthday gift! I just started a Captain America blanket for you... I guess I'll just donate it now for some lucky kid
AND THIS WAS THE PICTURE: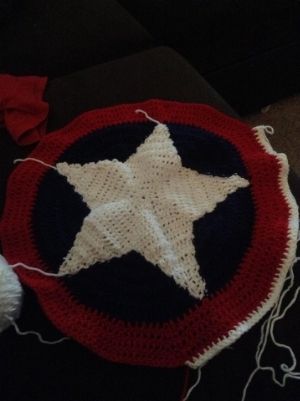 My response was:
No! You wouldn't dare! This blanket is part of our geekery items and will be sold (probably to someone on my blog) after I show it to Mr. Matt Fraction! I get the Cap blanket. *grabby hands*