Jul. 5th, 2013
08:34 pm

lar_laughs
I found a super easy stitch the other day and currently have THREE afghans worked in the stitch.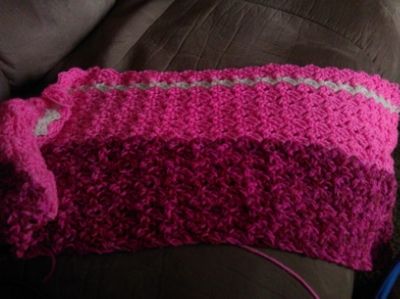 It's called the Sideways Shell stitch and is ranked as a super easy which I agree with. Beth says this picture doesn't do the blanket justice but that's all I have at the moment! Too lazy (and tired) to take a new one. I have this one, an orange/brown/ivory combo and a blue/gray combo.
I have to figure out how to get my cat to the vet tomorrow. Fun times working on a Saturday! I think they'll let me drop her off to spend the day there before I come pick her up in the afternoon. Her back paw is twice the size that it should be and I'm thinking she has some sort of abrasion or got poked with something. I wish I knew! We thought maybe she'd gotten in a fight and sprained it or something but it keeps swelling.
I really want some chips.