My darling nephew is going to be THREE in a couple of weeks. I cannot even believe that he is that old now! The time has flown.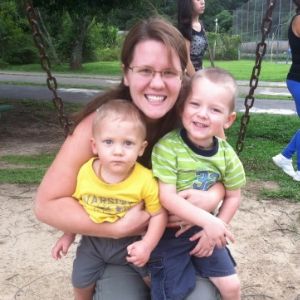 (he's the cute one with the smile)
His birthday this year is a Peanuts gang theme.
( Happy Birthday Time )
Did I tell you that story about how Nic likes to watch some of the older Peanuts movies and he especially thinks Mr. Sack (from when Charlie Brown goes to baseball camp and has a rash so wears a sack on his head and gets the nickname "Mr. Sack") is HILARIOUS!
( Mr. Sack goes to camp )
Instead of gifts, my sister has requested that we bring blankets for
Project Linus
. Mom and Mandie are both finishing up a few quilts they had started and I've picked up my crochet hook once again. I have 15 days to get something finished! *grins*
And in a week, they'll be home from Brasil!!! Hooray!!!! I've missed them all so much!